This is a flash hands on review to give you the chance to see what the droid is all about as soon as possible. Stay tuned as we'll be expanding and upgrading this review very shortly with more info.
Not content with releasing one droid for Force Friday II, Sphero has announced two new additions to its growing Star Wars family – the evil Sphero BB-9E and this, the most famous Star Wars droid ever, R2-D2.
If you have used any Sphero product, you know what you are getting with the Sphero R2-D2. 
But, instead of using the base ball that BB-8 and its Dark Side brethren BB-9E use to move around, R2-D2 uses his trusted tracks. 
This means that Sphero are able to add a little more detail to the chassis, something it can't do to the ball as it needs to be smooth and spherical. It stands taller too, at 17cm (around 7 inches). It's quite notably heavier as well, at 370g – compared to 200g for the other Sphero droids.
This all means that R2-D2's details aren't printed on but 3D and malleable. So, even if you don't charge the thing it will look on any shelf. 
Start it up, though, and its R2-D2 through and through. Its mannerisms are fantastic and the sounds it makes are completely authentic. 
Sphero explained to TechRadar that it went to Skywalker Sound to get the original recordings of R2-D2 in Star Wars: A New Hope and used these as a basis for its bleeps and bloops.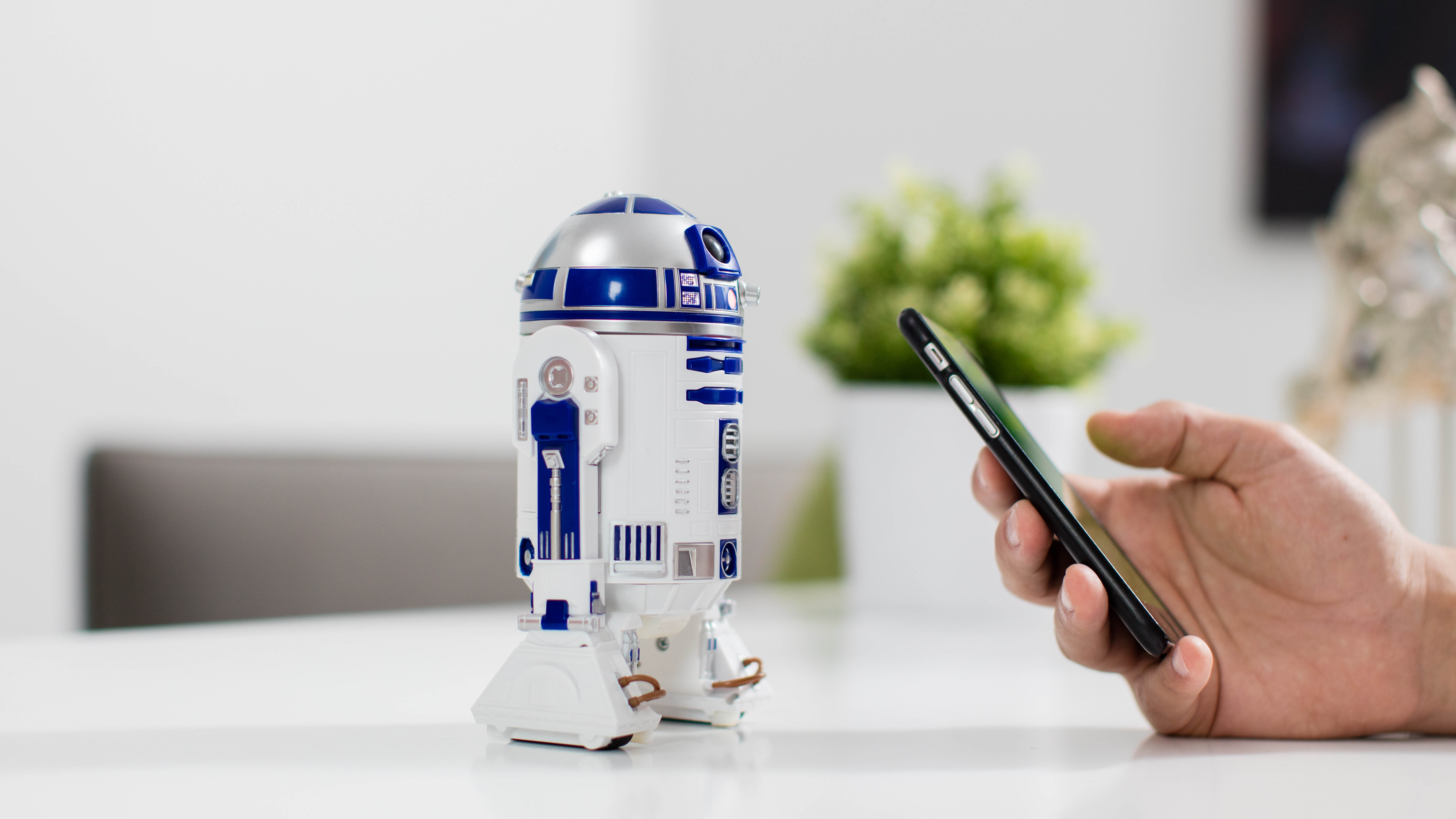 Controlling the R2-D2 is the same as all other Sphero products – through a dedicated app. The app has been updated so that all your Sphero droids can be controlled from one place. 
This is a real help as it's likely that fans of Star Wars will want more than one droid to play with. 
As with the other droids, you get a virtual d-pad to control Artoo. The d-pad now moves to where your thumb is on the screen, which is a real boon – it makes controlling so much easier. 
As R2-D2 rides on tracks, its movement is quite a bit slower than the other droids but it's very R2. There are some lovely one-touch gesture flourishes in the app which are kind of like special moves. Our favorite is when he waddles from side to side and keels over. 
R2-D2's head moves, too, just like the other Sphero droids but it's not detachable. It does have his front and rear LED lights, though, to add to the authenticity. 
We only had limited time with Artoo, but it's an impressive connected toy. Sphero has made it so that each droid can interact with each other. We've yet to see this in action but we did witness the great new addition of his Holographic Simulation. 
Pop him on his Droid Training device and you are able to roam around an AR version of the Millennium Falcon without fear that you will lose your Artoo unit. It's a great addition to the Sphero setup. 
You will also be able to watch Star Wars films with Artoo, through the Watch With Me feature. The Force Awakens and Rogue One are currently available –
and from Force Friday II you'll be able to watch Star Wars: A New Hope, too. 
Sphero R2-D2 is available from 1st September, for £179.99 (US and AU pricing TBA).